Updated 4th September, 2017, First Published 1st September
By now the world knows of the devastation wrought by Hurricane Harvey and its tropical-storm remnants across the Gulf Coast of Texas and sweeping slowly east into Louisiana.
As the sprawling counterclockwise rotation slowed and stalled over southeast Texas, the population from Corpus Christi east toward Beaumont suffered with consecutive days rainfalls inundating the landscape with feet – yes, feet – of rainfall.
Helicopters, government, military and private, and their crews pitched in to seek and rescue thousands of stranded citizens. Aid poured into the area and, as is typical, the business and general-aviation communities offered their help. But unlike many past meteorological disasters, as of Tuesday (29 August) night, the flooding from Harvey spread over such a huge area that few airports remained open to accept the goods and medicines available. The airports open to help rescue efforts were Houston Executive (TME), Sugar Land (SGR), West Houston (IWS) and Hooks Memorial (DWH) . Airport closures included Corpus Christi (CCIA), Beaumont (BPT), Victoria (VCT), Calhoun County (PVK) and Houston-area Bush International (IAH), Hobby (HOU) and Ellington Field (EFD). But those are now opening up.
And even those few airports with open runways suffered initially from waters around their borders, effectively cutting them off on the ground. The problem was and is ongoing a lack of clear, safe roads for transporting goods and medicines from airports receiving them. Thousands of miles of roads and highways remained closed. Helicopters and boats offer the best hope for moving good from airports to where they can be used. Gov. Greg Abbott called up the entire Texas National Guard to help, adding helicopter lift to those already serving the cause of emergency relief and the Pentagon also pitched in with help in the form of personnel, hardware and needed goods.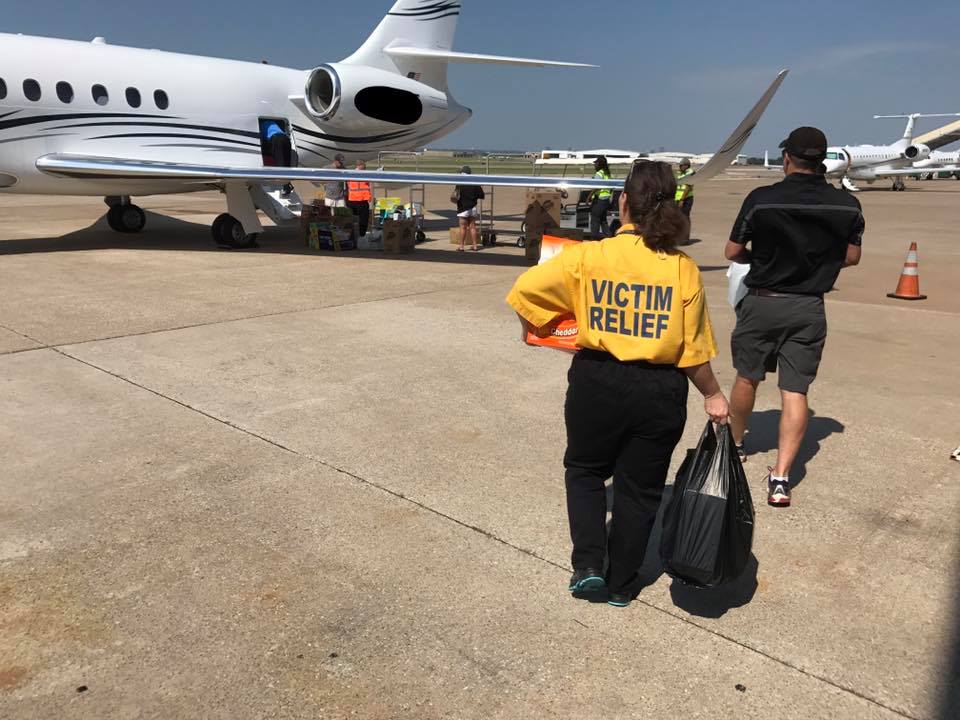 Updated 4th September: Janine K. Iannarelli, president and founder of Houston-based Par Avion, is helping to coordinate the efforts in the greater Houston area. She has been working with pilots, the National Business Aviation Association, Harris County Sheriff's Office Foundation, Patient AirLift Services and a host of local organizations to gather the supplies, get them on a plane and then distribute them to agencies helping with recovery and relief.
Iannarelli updated AvBuyer saying "Houston and the outlying areas have numerous small regional airports to which business aircraft and other GA operations are ideally suited to. We are reaching out to groups located in more rural areas. They may find it difficult to get to larger airports for supplies. We can go where the airliners can't and hence facilitate the delivery of much needed relief to hard-to-access, out of the way communities. There are more than three airports serving the greater Houston area and slowly but surely they are all coming back on line. There will be no shortage of people willing to donate their aircraft or their time."
One of those pilots is Robert Johnson from Dallas, whose relief efforts are covered on the NBAA site. Johnson, the CEO of TeamSupport, owns and operates a Cessna 421, and is also a partner in a pair of North American T28 warbirds. On Aug. 30, working with the Salvation Army, he flew a plane full of office supplies for their command center, and relief supplies for victims to Conroe, TX."I sent three of my employees out to Costco, Walmart and Office Depot, and they came back with $1,500 worth of supplies in two SUVs," Johnson said. "We headed out to the airport and filled every nook and cranny of the 421."
Johnson has never done relief flights before this, but has done missions for Veterans Airlift Command, which provides free flights to wounded veterans and their families for medical care. "There is obviously a huge desire by pilots to help, and two fellow pilots – Doug Jackson who flies a 340 and Glenn Smith who flies a Bonanza – put together Operation Airdrop and have coordinated with the Salvation Army," Johnson said. "I reached out to Glenn and said 'How can I help?'"
How Can Aircraft Owners & Pilots Get Involved?
Two ways. Aviation personnel can volunteer their services at – www.nbaa.org/ops/hero/volunteer/.
And, aircraft owners and operators wishing to donate their aircraft for relief flights may do so through the National Business Aircraft Association (NBAA) Humanitarian Emergency Response Operator (HERO) Database at www.nbaa.org/ops/hero/.
HERO is a list of people in the Biz Av community who are part of disaster-response mobilization efforts. Basic information from the database will be provided to organizations coordinating relief efforts. The Helicopter Association International noted its membership was deeply involved in rescue and relieve efforts. The Aircraft Owners and Pilots Association and the Seaplane Pilots Association both worked to coordinate available aircraft with officials.
Animals Need Help Too!
Pilots N Paws founder Debi Boies is seeking business aircraft operators willing to transport shelter animals from the affected areas. According to an article on theNBAA site, the immediate goal over the next week is to pick up dogs, cats and other animals from area shelters in Houston and open up space for pets displaced by the storm. But, airports in the areas hardest hit by the storm are expected to remain closed to general aviation aircraft at least through Labor Day.
Pilots N Paws is working to arrange pickups from airports in Fort Worth, Austin and other "safe zone" communities in Texas and Louisiana, with those flights then handing off the recovered animals to other volunteers in surrounding states. Although the organization has more than 5,200 volunteer pilots, most fly smaller aircraft not suited for the adverse weather conditions.
"This will require larger aircraft, like a Pilatus PC-12 or similar," she explained. "We need planes able to handle large numbers of crates and that can safely navigate the weather. There will be an ongoing need to transport these animals over the next several weeks," Boies continued. "Even if you may not be able to help today, we appreciate all the help we can get tomorrow."
Business aircraft pilots are encouraged to contact Pilots N Paws. It is a 501c3 non-profit organization, so operators may be able to write off operating expenses for the rescue flights
JSSI Waives Flight Hour Fees
JSSI is waiving flight hour fees for customers who donate aircraft flight time to the relief effort. In addition, JSSI will contribute $10,000 and match every flight hour credit with a dollar-for-dollar donation to the Red Cross. "The hearts of the entire JSSI family go out to everyone impacted by Hurricane Harvey," commented JSSI President and CEO, Neil Book. "When people are in need, the business aviation community never fails to step up. Business aircraft are truly unique in their ability to reach locations impacted by natural disasters.
We hope that by waiving these fees we can make it a little easier for our clients to utilize their business aircraft and provide a lifeline to the people and communities in crisis," added Book.
And, customers who plan to donate, or already have donated, aircraft flight time can contact their JSSI Client Relationship Manager for more information and to report relief flight hours.
Stay up to date with NBAA's coverage of Hurricane Harvey. Or follow Social Media using #HarveyRelief
Got a story you want to share about your involement in Hurricane Harvey? - email Jayne Jackson via the Contacts Page
Read More About: