You may have the best jet connectivity available for your aircraft right now, but have you accounted for future updates and advances? Aviation Director Andre Fodor explores how…
As our corporate jet reaches its second birthday, we have started planning a new budget accounting for the many items that will no longer be covered by the new aircraft warranty.
In planning for the future, the main discussion has centered on what investments will be necessary to maintain our aircraft to peak condition, and how to continue satisfying the technological expectations of our demanding and tech-savvy executives.
The ongoing question is whether the right choices are being made. Is an effective backbone being built to provision the aircraft for future enhancements? The questions are designed to help prevent the jet from becoming obsolete by future technological advancements.
Identify the Jet Connectivity Upgrade Early

When planning for the longer-term, paying as little as possible for an upgrade in the short-term comes behind finding better solutions that offer flexibility to incorporate future modifications. Thinking long-term will reduce upgrade costs and down-time later on.
As an example, during our last connectivity installation, when ground-based internet service capability was installed in the aircraft, we intentionally provisioned additional hardware as we predicted a new generation of advancements would come to market in about five years' time.
It was therefore necessary for extra conduits, coaxial cables and fiber optics bundles to be installed and stowed until later required.
The advantage is that much of the labor was paid-for up front. True to our expectation, 4G ground-based technology became available in the US recently. Having done the ground-work early, we're well-positioned to enjoy true large bandwidth capability with minimal disruption and expense.
Identify the Jet Connectivity Vendor Early

Just as important as planning and provisioning for the future is the need to consider who the provider of your hardware and software will be. Focus on vendors who that have an ongoing solid footing in the market, and demonstrate a proven track-record of designing upgradable platforms.
Well established vendors will support your equipment for many years ahead, and your equipment will not be left 'orphaned' should the vendor go out of business unexpectedly, or be acquired by a larger vendor.
Seek to verify whether there is a strong technical customer support network with qualified and experienced technicians. In-flight jet connectivity systems are highly complex, and will very likely require tweaks and troubleshooting advice to work correctly.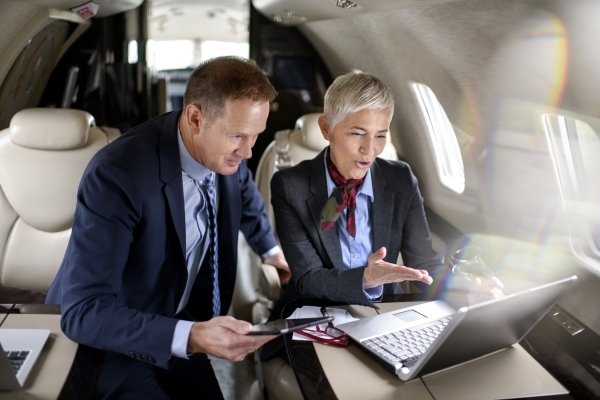 A Note on Privacy and Security

Away from the aircraft cabin – but not entirely removed, a recent article detailed how a person was convicted of a crime by a unique witness. The witness' name was Alexa... The witness is unique because it is not a real person but an internet driven item of software that responds to verbal commands and executes tasks.
This device listens continuously while recording and analyzing your voice until it hears its wake up cue. In this case, Alexa recorded information that ended up identifying the culprit of a murder.
As we handle connectivity in corporate aircraft and connect our airborne networks to the outside world via wireless devices, satellites and ground-based transmitters, we potentially expose data that may affect someone's personal privacy or corporate security.
There is no simple solution to this threat, but the onus rests with the user who must understand that no data is ever fully secured.
Thus, applying multi-layered security procedures to the data traveling to and from your aircraft cabin via a secure data transfer center is the bricks and mortar to build your data fortress.
Opting to store restricted data files on-board using a data management device is another option. Once on the ground, these restricted files can be transferred through secure VPN directly to your corporate servers.
Some connectivity providers already offer on-site servers that have the highest certification for data security protocols.
In essence these eliminate the traditional data pathways once the data arrives in its data center, moving all data through secured networks.
By adding filters to your on-board routers that sift through access requests and eliminate suspicious data transfers, large device updates and heavy automatic media backups, you will further optimize dataflow and minimize opportunistic attacks and data breaches.
To Summarize…

As managers of high value assets, we are charged with taking the long-view, staying aware of the trends and new developments in jet connectivity that can add value to the unique experience of flying high, fast and direct to the required destination.
Complementing the flight experience with the newest technologies becomes an opportunity to maximize the office-in-the-sky, and brings about the full potential for the work, leisure and entertainment capability that our principals expect.
It's our responsibility to use industry publications, conventions, internet discussion groups and vendor presentations to stay in-the-know about the new trends in private jet connectivity, and guide our aircraft owners in making the best decisions for their aircraft.
Read More About: Jet Connectivity |