Ken Elliott discusses the advantages of owners being proactive when considering aircraft equipage and maintenance issues, especially when cockpit and cabin connectivity is being addressed…
Because of human nature and basic economics, we tend to view our aircraft and its systems in a piece-meal fashion, making decisions on an "as needed" basis and not always seeing beyond the next major maintenance event.
Equipage mandates from our aviation authorities can, understandably, be perceived as a hindrance to operations, with both pilots and owners asking "what's in it for me?" When taking a broader approach to aircraft requirements as they come due, however, flight departments may realize significant long-term benefits.
Your next major shop visit can be maximized when combining different upgrades along with major maintenance, for example.
Connectivity is one key area deserving of a broader approach by flight departments. By its very nature, connectivity touches a variety of aircraft systems. By taking a wide view of connectivity, several disjointed upgrade steps, brought together under a one-time event, may reduce overall cost and downtime.
Because technology is always evolving, it is impossible to simply upgrade aircraft systems, then sit back and relax, knowing nothing more will be required for as long as you operate the aircraft. Upgrading never stops, so the best you can do is make technology decisions based on knowledge of what is on the horizon and what industry is considering.
Especially for connectivity, limitations for growth, innovation and capability exist because we do not operate with open architecture aircraft avionics and because airworthiness compliance requirements can be overly extensive.
On the one hand, ARINC has created standardized bussing communication systems and RTCA provides a large set of integration and operating guidance. On the other hand, OEMs have craved for – and achieved – closed cockpits with protected bussing systems.
Furthermore, this level of control has allowed a steady growth of the 'menu-plus' ideology. When they take delivery of their aircraft, operators receive a basic set of functionality. If they desire or need additional features they may, for example, access them via a fee-based software key.
The same control mentality extends to third party developers, where novel add-on features or the integration of other systems cannot be achieved simply because third parties are also locked out. In their case, they are not offered the keys to access proprietary busses.
Inevitably, an open architecture approach is on its way, allowing thousands of new connectivity choices. Meanwhile, more and more of an aircraft's performance will depend on it.
Understanding Connectivity

Linking different technology hardware is only a piece of connectivity; software is another. Advanced new software now enables aircraft hardware to network in ways never envisioned previously. All in all, there are several related industries that drive connectivity forward in both the cabin and the cockpit. They include:
Aircraft OEMs
Equipment OEMs
Satellite and air-to-ground providers
Antenna developers
Personal electronic device industry
Software and Cloud developers
Aircraft communication and navigation service providers
Aircraft completion centers and MROs
Ancillary system providers.
As these industries expand into new areas and drive down cost, weight, size, power draw and time to market, there will evolve a positive overall effect on the aircraft's ability to network to other aircraft and to the ground.
Connectivity can be considered as having several sub elements, under the general categories of cabin and cockpit systems. However, the technologies used for either are cross-migrating as they reach levels of maturity that allow certification for use.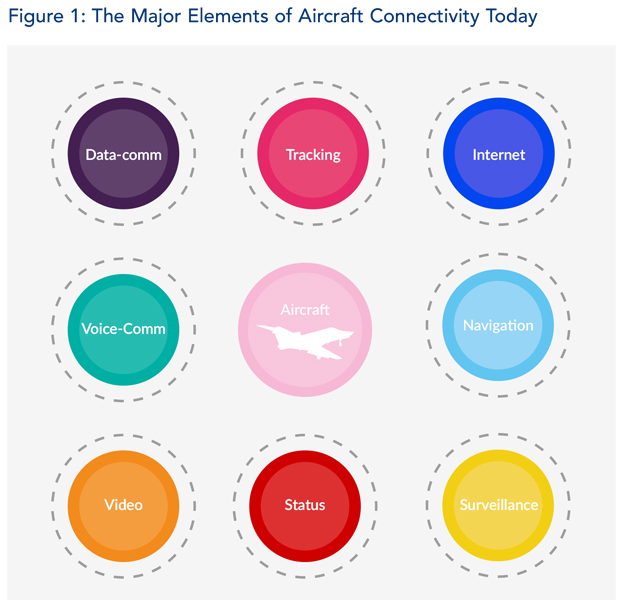 While some of these elements (represented in Figure 1, above) are more useful to those in the cabin and others to the pilots, tracking and data are very informative to both the cabin and the cockpit, as depicted in Figures 2 and 3.
Until recently, connectivity elements were handled in isolation, while incrementally introduced into the existing technology structure. Today these elements are morphing into one big technology, appropriately termed 'Connectivity'.
In the wider world outside of aviation, terms such as Cloud-Based and Internet of Things (IoT) are being used to embrace the same changes taking place. The motivation behind these changes, as they impact aviation, is derived from several areas including:
Safety
Human Factors
Reliability
Speed and Time
Volume of Information
Predictability
Situational Awareness
Traceability
Data (not Voice)
Entertainment
Cost and Efficiency.
Because there are multiple areas driving the technology innovation, and because the several elements are becoming one, it is important for operators to view their connectivity decisions holistically.
Reviewing the major elements in isolation, it can be shown that most new aircraft include versions with current capability, or with the potential to obtain that capability. Below are some of the technologies and tools that provide the connectivity elements with the latest means:
Introduction of 4G LTE air-to-ground
Migration of Ka-Band satellites
Customized dashboards from service providers with multiple capability
Mobile connection anywhere (ground and air)
More use of differential GPS
Portable touchscreen
Onboard networks and routing
ADS-B and -C via satellite for worldwide coverage
Dedicated low-cost tracking systems
RFID and Data off the aircraft for status
Datacomm
Integrated surveillance and recording.
Connectivity is all about staying in touch in real-time, being able to operate in the air as you do on the ground and ensuring predictability anytime, everywhere.
Staying connected is just as important within the aircraft as it is to and from the ground. Selecting the appropriate router, using Bluetooth, selecting fiber-optic wiring and the routing of Wi-Fi are just some considerations. There should be no compromise in performance or capability in the transfer of, and access to information once onboard the aircraft.
Connectivity Engages with Requirements

Requirements for aircraft operations come in two major groups:
General - mandated for most airspace users; and
Specific - required if you want to operate in certain sectors of airspace.
In the past, we have had general mandates such as RVSM, TCAS, ELT, EGPWS/TAWS, FM Immunity and 8.33 Comms that applied to large numbers of operators. We also had specific requirements such as Controller Pilot DataLink Communication (CPDLC) Link 2000+ as a VHF DataLink for certain EU ops, the recent TCAS 7.1, applying only to TCAS II users and now DataComm departure clearance at specific locations. However, in either case it can be shown that connectivity and its elements cut across most current requirements.
Most notably, a recent intention of FAA Flight Standards is to reduce the Reduced Vertical Separation Minimum (RVSM) recertification requirement for Automatic Dependent Surveillance–Broadcast (ADS-B) equipped aircraft. The connectivity of ADS-B allows FAA the ability to utilize the accurate position information it provides to validate RVSM performance, thereby reducing the existing RVSM monitoring requirement.
Furthermore, ADS-B has the ability to route through satellites for worldwide tracking of aircraft, similar to continental capabilities that exist now, while not requiring the use of a high-end satcom. ADS-B, as a requirement, will become the ADS-B of many uses.
Operators thinking from a wider perspective will investigate versions of ADS-B that cater for growth in capability.
Operators wishing to fly in certain tracks require CPDLC in the form of Future Air Navigation (FANS) that incorporates Performance Based Navigation (PBN), Communication (Datacomm) and Surveillance (TCAS 7.1). FANS as a specific requirement also relies on ADS-C (Contract), a Service Provider and an onboard data recording capability. Note how in the FANS requirement alone, there exist several of the connectivity elements.
Connectivity Roadblock

Advancing connectivity has several roadblocks to face. Following are some of them:
FCC and other Government's Frequency Allocations
Possible interference between different operating bands
FAA and other Government's aircraft and system certification
Reliability of new services as they are first introduced
Cyber security and accessibility limitations
Lack of open architecture in aircraft systems
User reluctance to embrace change
Price, downtime and service provider fees
Software compatibility.
Operators should broach these concerns when they discuss their connectivity requests with preferred maintenance providers. It is crucial in this world of rapid change, however, to keep one eye on the future and ask one other roadblock question that most sellers will avoid answering: What will this system do for me several years from now?
Alternatively, the question could be framed: "Show me everything that has been designed into this system that mitigates obsolescence". Sellers of new equipment need to demonstrate its wider capability.
The equipment and integration provider is challenged to demonstrate how your connectivity solution addresses the range of different requirements, general and specific, the different elements of connectivity, the various means available and motivational areas.
Selection Criteria

When operators are considering connectivity there are several key factors to understand. However, the criteria differ if you are purchasing new, acquiring used or simply updating your own aircraft. Following, we consider how…
New Aircraft:Aircraft OEMs have developed integrated suites of equipment for their aircraft and tend to favor certain equipment OEMs. For turbine and turboprop aircraft, the leading suppliers are Rockwell Collins, Honeywell, Garmin and Thales, followed by versatile niche providers such as Universal Avionics, IS&S, Avidyne and others.
Specifically, companies such as GoGo, ViaSat and the new SmartSky specialize in connectivity and satellite technology. OEMs therefore are locked in with their suppliers. The procurement departments of the various aircraft OEMs tend to rule the roost, and it is hard to shift direction.
For operators there is limited choice, so look at all your options. As with buying a new home, it makes more sense to take the options up front, if the budget can stretch to cover them.
It also means slow innovation because it takes an army to introduce any change, either to software or hardware.
Lastly there is the bundling factor to consider. The OEM will group improvements, changes and non-priority resolutions into single package releases (typically a Service Bulletin (SB) or a set of linked SBs). Unfortunately, linked SBs apply sequentially, such that one requires the implementation of the other, and the prerequisite SB may install, at a price, features you did not need or desire.
Acquiring Used Aircraft:A whole world opens with used aircraft, and every shop under the sun has a special solution available in the form of an FAA STC or Form 337. OEMs also provide aircraft solutions that some operators prefer, because they are 'blessed' by the company that built the aircraft.
More competition brings down the price. However, prices are driven not just by competition in equipment costs, but also by reducing downtime, using novel solutions and what are known as Approved Model List STCs (AML-STCs). You'll find a master STC list at the FAA website – use the list as a supplementary tool and always consult with your preferred maintenance provider.
The aircraft transaction company or broker should have in-house expertise to advise. For example, Jetcraft Corporation employs sales engineers who, working with the pre-purchase MRO, provide guidance to the purchaser.
Because there are so many solution options for connectivity, think about aircraft resale, obsolescence and the actual features you will receive.
Compare all bids to ensure the features offered are based on an 'apples-to-apples' comparison. Features need to be fully available to use upon aircraft delivery and not something that is planned to occur. Planned features are often late and not quite matching the promise of the literature.
Obviously once you have completed the transaction of the aircraft, the best time to make changes or upgrades is before you complete 'entry into service'. Once you are fully operational, there are less downtime opportunities available to you and the budget is determined.
Your Existing Aircraft:In some ways, this is the ideal situation for connectivity upgrades. Owners who retain their aircraft for more than a few years tend to take great care in the selection of upgrade options. They are likely to have significant knowledge of the aircraft and what is available. While being savvy, they still are flight-operations focused. It is highly recommended to stay in touch with MRO subject matter experts.
Because they may have more time to make decisions, it is recommended to leverage a few pointers from the expert at the MRO and then complete due diligence by asking questions about features, obsolescence and impacts on resale.
If the flight departmen has multiple aircraft, consider the connectivity across the fleet and standardization for pilots. Consider maintenance requirements, ease of international operations, warranty and remote support.
In Summary

Connectivity provides a window for operators to maximize the potential capability of their aircraft, while reducing downtime and cost. It is the way of the future, especially so as more autonomous aerial platforms enter the national airspace. Indeed, the importance of a broad approach will be significantly magnified as we embrace see and avoid, remotely coordinated flight and streaming cloud-based technologies.
Meanwhile, as the world shrinks, aircraft fly to remote destinations more frequently and need to remain constantly connected. Their owners appreciate knowing the whereabouts and status of their aircraft while passengers want to be in an office that moves, functioning as if on the ground. They want to remain connected on any ramp, anywhere, and use their mobile devices connected through aircraft systems.
If on leisure, those in the cabin look for internet bandwidth and video streaming, essentially having that media room experience, again connected via personal devices.
Read More About: Cabin Avionics | Jet Connectivity