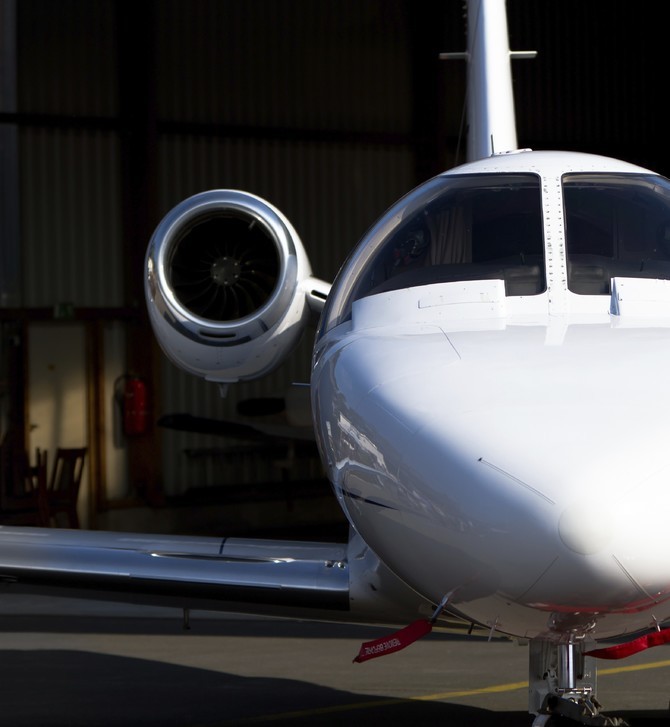 David Wyndham examines when upgrading or replacement of the company airplane is appropriate.

The owners of a 10-year old light jet were facing the possibility of a significant avionics upgrade in the next few years. They were also considering replacing the aircraft during the same timeframe. While the upgrade would add value to the aircraft and might make it easier to sell, what path was best?

There are many types of upgrades available for popular aircraft that can change them from unacceptable burdens to mission-capable assets while reducing their costs of operation. When does it work to do the upgrade, and when doesn't it and buy aircraft instead.

Certain avionics upgrades may be required just to keep an aircraft flying. The FAA NextGen navigation system is requiring new avionics equipment be installed by 2020 to allow aircraft to use the air navigation system.

Modifying the aircraft can be costly, especially for older models with low values.

Some aircraft may require even more avionics upgrades to operate globally, especially in Europe. Do you do only the FAA-required upgrade and avoid trips to Europe? Do you acquire a new aircraft? Your flight department must consider several options to evaluate the upgrade/replace decision.

When to Do the Upgrade

Upgrades fall into two categories: adding new safety features and adding new capabilities. Certain upgrades associated with the FAA's NextGen program will be required by 2020 just to maintain the aircraft's operational viability. Either you spend the money or sell the aircraft for parts. If you require new avionics but don't need the advantages of a new aircraft, such as more range, speed or cabin volume, the upgrade path may work.

Possibly you seek to add performance, such as better fuel efficiency or range. Companies like Aviation Partners, Raisbeck and Blackhawk have been quite popular for many years. They, and others, have aerodynamic and engine upgrades that allow your current aircraft to fly faster, further, or both. Sierra Industries offers Williams engine upgrades for older Citations that add speed and range.

Nextant Aerospace is remanufacturing older Beechjets into Nextant 400XTi's - complete with new engines, new avionics and a new interior. Nextant is being joined by an engine upgrade from Textron. Other companies offer engine modifications as well.

There are a number of avionic upgrades available from Avidyne, Garmin, Honeywell, Rockwell Collins and others. Third party specialists are also doing modifications that range from updated navigation gear to a full (glass) panel replacement. When looking at new systems, consider what the current variant of your aircraft (or closest relative) has for its avionic system. Done right, these systems enhance both safety and reliability.

For the passenger cabin, interior specialists offer all sorts of options for in-flight entertainment and airborne Internet as well as new seat designs and modern materials.

It's Personal

Before you undertake such a major project, however, there are some things to consider:

- If you need "more" (as in seats, payload or room), your only true alternative is buy a larger aircraft.

- Aircraft age is also an issue. Older aircraft cost more in aircraft maintenance than newer ones. Wear and tear items, aging aircraft issues, and engine overhauls all drive costs up. Your aircraft must be in excellent mechanical condition and essentially free of corrosion, otherwise don't consider the upgrades.

- Some upgrades add value to your aircraft while others add value only to you. With today's market, do the upgrade if it has value to you. If it has value in the market place, so much the better but do it primarily for you.

- Unique is great with art, not with aircraft. Stick with established programs with a successful track record. Do equipment upgrades that mirror the new models or closest equivalents. Those will tend to have the best impact on resale value and also maintenance supportability.

There is a trade-off between putting money into an existing aircraft and replacing it.

A decade or two ago, you could always avoid the upgrade analysis and sell the aircraft to a buyer outside the US. That is not so easy anymore. Countries in South America, Africa and Asia are upgrading their air traffic and navigation systems. Many of them are looking toward Europe's airspace as their model. In today's economic conditions, spending money on an upgrade may not result in a 100% return on the investment, especially on older turbine-powered airplanes.

For example: upgrading the engines on a King Air C90 can run to over $700,000. A 20-year old C90B sells for just over $1 million. Looking at today's market, it's doubtful that the upgraded C90B can recoup 100% of the upgrade at resale. The engine upgrade will add to the aircraft's value, but don't do it just to resell the King Air after the retrofit. The likelihood of recovering all your money is very low. Do it because it adds value to you.

If you are upgrading just for a specific mission, but that mission is infrequent, consider the alternative. It might be more cost effective to charter an aircraft for the occasional European trip rather than upgrade your company's existing aircraft.

Budget carefully and talk to other operators who have done the same upgrades. Ask your accountant to run the numbers, including all tax considerations as well as your cost of borrowing the funds needed to upgrade or replace. As long as your current aircraft is in excellent mechanical condition and you plan to keep it for the next few years, the added utility and flexibility of the aircraft upgrade may add all the value you need.
Read More About: Aircraft Maintenance | Operating Costs