The outlook for business aircraft sales in 2017 looks quite similar to 2016, with a few remarkable differences, notes Rollie Vincent, Editor, Market Indicators…

The world's business jet fleet continued to grow in 2016, expanding by 2.5% to more than 21,000 aircraft. Although growth in the fleet would seem to be a good-health indicator, there are some important qualifiers that should be considered.

Importantly, and addressed in the reports that follow from ARGUS and WingX Advance, overall utilization levels are not growing at a similar 2.5% rate, suggesting that more aircraft are either being idled or are operating less frequently than before.

Based on an analysis of the latest available information, the growth in the worldwide business jet fleet did not keep up with the expansion of the global economy (as measured by global real GDP of about 3.1%) in 2016. For comparative purposes, fleet growth has averaged about 3.8% CAGR over the past 10 years (approximately 1.5 times faster than GDP).

Although assessments of the effect of economic expansion, corporate profits and other demand-enablers traditionally include a lag period (to account for the fact that companies typically make profits before they order airplanes, and then have to wait to take delivery), shorter wait times are the norm today as OEM backlogs have been reduced. Practically speaking, this implies that a slowdown in GDP growth could be evident more quickly in business jet fleet growth rates.




International Fleet

As usual, the details on a country-by-country basis provide more useful and actionable insights. Importantly, the US business jet fleet continues to expand, growing at about 3% in 2016, well ahead of US GDP. With most economists forecasting an even higher rate of growth for the US in 2017, barring any major geo-political and trade disruptions that could occur in the uncertain policy environment we expect that US business jet sales will continue to outpace US GDP and the overall market.

This is important, as despite more than 50 years of production, the business jet market remains highly concentrated in the United States, with more than 61% of the fleet based there at the end of 2016.

Just seven countries account for almost 79% of the world fleet, including four in the Americas, two in Europe, and one in Asia. Within this business jet 'club', China has come off its double-digit GDP and fleet expansion rates, and other key markets have been hard hit by lower commodity prices and weak currencies (Brazil and Canada) and political upheaval (Brazil).

With the many interconnections between these seven large economies, the outlook for international trade is particularly clouded in 2017 by a rise in nationalistic rhetoric that could have far-reaching impacts well beyond Business Aviation's markets.

Medium- to Long-Term Thinking

There has been much written about Business Aviation as a 'growth' sector. The medium- and longer-term prospects for continued expansion of Business Aviation's reach into all corners of the world, and that should be of some comfort to aircraft sales professionals having difficulty sleeping these days.

But who lives in the 'medium- and longer-term', and how are these timeframes even defined? For an anxious aircraft sales professional staring at aging, unmoving and depreciating inventory on the ramp, 'medium-term' might be 2-3 months – or less. For investors, time horizons are invariably much longer, and highly dependent on the asset class under consideration. For them, 2-3 or perhaps up to five years might be closer to the mark.

Much can happen in five years and Business Aviation is no exception, particularly in the post-financial crisis era in what many might call an economic recovery without widespread prosperity. There is no doubt that some companies and High Net Worth Investors have elected to stay on the side-lines of the business aircraft playing field, content to hang onto their existing aircraft while keeping 'dry powder' for other investment opportunities.

Meanwhile, despite massive R&D investments by the aircraft OEMs generating a steady flow of new aircraft into the market, there have been relatively few aircraft retirements, and the average age of the business jet fleet has increased by about 11% over the past five years (see Chart A).




Could this be about to change, particularly within some segments such as the traditional Light and Mid-Size jet categories, where the average business jet is about 20 years old?

Averages are indicative only, however, and smart investors know how to place their bets, and win at least a few more times than they lose. Averages matter little in a market with a wide variation in product capabilities, attributes, maintenance conditions and operational history.

Simply owning an aircraft that is signed up on a well-regarded cost-per-hour program can make all the difference in whether the asset is attractive to a potential buyer, especially in today's hyper-competitive market.

With many aircraft owners opting to hold onto their existing aircraft rather than trade-in or trade-up, the fact of the matter is that most buyers and sellers don't participate frequently enough to offset any 'bad bets' they may have made against some 'better bets' that they might be missing.

While upgrading an existing aircraft might seem to make sense to some, there is a real risk of becoming the last-ever owner of an aging asset that may retain essentially zero trade-in value at some point in time.

The Verdict?

In today's market, with most of the residual value of older aircraft residing in the engines alone, prospective buyers would be very wise to seek the counsel of aircraft transaction professionals who can provide them with insights from their experience throughout the ups-and-downs of business aircraft markets.

What might appear to be a time to defer a purchase could in fact be just the opposite – especially now as most OEMs have been wisely resetting their new aircraft production at lower rates to better align with the market.

Throughout 2017, business aircraft buyers – pre-owned and new - are likely to be presented with some of the best opportunities to purchase attractive assets that we have seen in the post-2008 financial crisis era. As with most attractive opportunities, this one won't last very long.

MI www.rollandvincent.com

BizAv Activity – North America

North American flight activity in December 2016 rose 1.4% Year-over-Year (YoY) with Part 135 flight activity leading the way, while Part 91 activity was in the red for the holidays…

Reviewing December 2016 vs. December 2015 flight activity, TRAQPak data indicate that results by operational category were mixed with Part 135 activity rising substantially. Fractional activity finished the period flat, and Part 91 activity dropped by 3.6%.

The aircraft categories were mostly positive with large cabin jets leading once again, with a 7.2% increase over last December.

Month-over-Month (MoM)

December Business Aviation flight activity posted a MoM decrease (the normal historic trend) from November, finishing down 5.7%. Results by operational category were all red for the month. Aircraft categories were all down with the largest MoM decrease coming in the mid-size jet sector. Two individual sectors did manage to show increases, however.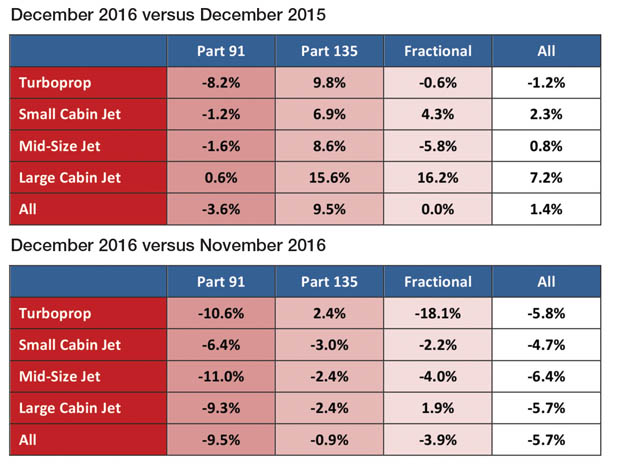 MI www.argus.aero

BizAv Activity - Europe

There were 52,419 Business Aviation departures in Europe in December 2016 representing a small 0.6% decline in YOY activity. The annual total of 798k Business Aviation flights in 2016 was down by 0.3% compared to 2015…

The decline in December was due to weaker Turboprop and Piston activity; Business Jet flights were up, especially in AOC activity. December activity was held back by much weaker demand in Germany with departures down almost 9% (that's equivalent to 760 fewer YoY flights). The decline in Germany was particularly acute in Piston activity, with Business Jet flights falling 3% YoY.

France also saw a slight decline in activity in December, although Business Jet departures from France were up 6%, and AOC activity in France grew 8% overall. UK flight activity grew nearly 1%, Italy and Spain by approximately 2%, and Switzerland by almost 6% YOY.

Intra-European activity was down 1% overall in December, with a weaker Western Europe bolstered by stronger Southern Europe.

Arrivals into Europe were well up from the Middle East and Africa, but down from North America and Russia this month.

Private flights fell by 4%, ending a mostly negative year for these missions, in contrast to AOC flights that consistently expanded in 2016.

Ultra-Long-Range and Super-Midsize jet activity was up in every month of 2016. Midsize jet activity continued to erode in December, but Heavy Jet activity bounced back.

"Overall this was a disappointing finish to 2016, the full year showing no aggregate improvement on a stagnant 2015," summarized Richard Koe, Managing Director, WingX Advance. "However, much of this is due to the decline in Prop activity, especially in Germany. The Business Jet market is evidently recovering, especially in AOC activity."

MI www.wingx-advance.com

Gulfstream Gaps Leave Door Ajar for Cessna & Embraer

Recently, Gulfstream announced production would end for the venerable G450, weeks after the same was announced for the G150. While the incoming G500 is a replacement for the G450, no immediate replacement is planned for the G150, notes James Hagerty…

The recently announced changes reinforce Gulfstream's dedication to serve its core client base with large-cabin, long-range aircraft, but also exposes sizable price and performance gaps that the G450 and G150 once filled.




The G150…

The very capable G150 was Gulfstream's way to introduce mid-cabin buyers to the company's product portfolio. Only 121 G150s are in service since the airplane was introduced in 2006, with the majority being delivered between 2008 and 2009.

Following that peak, Gulfstream struggled to deliver more than six airplanes in any given year, and the G150's lack of success was less about performance or product support, and more about price competition. Competing OEMs often discounted prices, while IAI's inflexible pricing model made it difficult for Gulfstream to make a reasonable profit to sustain production.


The G450…
As the final derivative of the GIV, the G450 type design began production in the mid-1980s as the GIV and later became the GIV-SP, G400 and eventually the G450. Over 870 aircraft were delivered making it one of the most successful business jets ever. Despite continuous improvements, though, the GIV lineage is now perceived by many as dated and due for retirement.
Gulfstream's newest G500 model is expected to begin delivering ahead of schedule in late 2017. It's an amazing aircraft by all measures with a Clean-Sheet design and cutting-edge technology. The G500 will fly 600nm farther than the G450, at faster speeds and with more cabin space.
However, with a price tag around $45m (excluding options and/or escalation), the G500 is in a different price/performance category than the G450 historically was. Ideally, the G500 will compete directly with Bombardier's Global 5000 and Dassault's Falcon 5X which is expected to begin delivering in 2020.
A Door of Opportunity Opens…
When Gulfstream acquired the Galaxy (G200) and Astra (G100) programs in 2001, the justification for the acquisition was to introduce Small- and Mid-Size business jets to current and potential Gulfstream owners early in the product upgrade cycle (i.e., build customer loyalty and grow the relationship up the product line).
Prior to the IAI deal, Gulfstream offered only the GIV-SP for around $30m and the GV at $40m. The strategy behind the acquisition proved to be a success as many G200 and G150 owners eventually upgraded to Long Range, Large Cabin legacy Gulfstream aircraft.
Today with the end of the G150, Gulfstream's entry-level aircraft is the Super Mid-Size G280 with a price tag around $20m.
The G280 has a two-zone cabin with seating for up to 10 passengers and a range of 3,600nm, competing head-to-head with the Challenger 350.
Thus, Gulfstream's lack of product choices below $20m reduces the likelihood that a first-time buyer will consider a Gulfstream product, leaving Cessna and Embraer with the most to gain within that market segment.
The competition is loaded with new products such as the Cessna Citation Latitude and Longitude that are priced in the mid- to upper-teens. Embraer has already delivered over 50 Legacy 450 and 500 models which sell in that price range, and offer ranges of 3,000nm +/- while featuring a 6-foot-tall cabin. Embraer will likely generate future Legacy sales from the smaller Phenom 100 and 300 series, just as Cessna has been doing for years with its smaller Citation models.
Filling a Void…
The increased rate of growth for Ultra-Long-Range business jets coincided with the expansion of global trade in emerging markets between 2008 and 2012. Gulfstream developed the G500 and G600, based on new demand in the Ultra-Long-Range segment and to meet and exceed design performance from competing OEMs.
With long lead times to design, build and certify a new product, it's no surprise that demand for the Ultra-Long-Range aircraft has shifted along with the global economy.
Gulfstream's Large Cabin segment leader for the past 30 years has been the G450. It achieves a commonly accepted mission: 4,400nm range, seats up to 16 passengers and has a $30m price tag. As noted, while the G500 offers notable improvements in range and size, it is disproportionally priced compared to the G450.
The gap between a $20m G280 and a $45m G500 is too large for both Gulfstream and the competition to ignore.
Cessna could fill the void with new, fully capable clean sheet designs such as the Hemisphere. With an anticipated price tag of $35m, Cessna plans to certify the Hemisphere by 2020. It boasts a cabin six inches wider than the G500/G600 and one inch narrower than the G650. For the first time, Cessna will adopt a three-cabin zone interior that accommodates up to 19 passengers.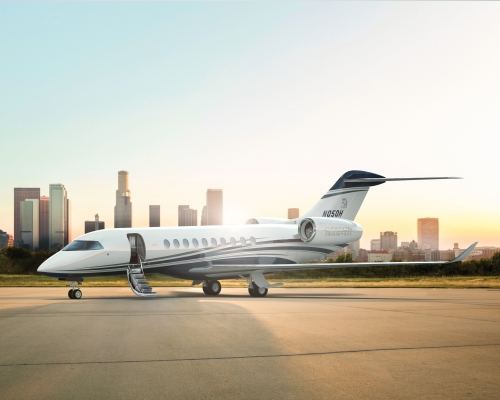 With a range of 4,500nm, and a max speed of Mach 0.90, this airplane achieves Gulfstream's missing G450 mission with a modern and cost-efficient platform. When Hemisphere deliveries start in 2021-2022, we believe G450, Falcon 900LX or even Challenger 650 operators will look to Cessna.
Cessna continues to demonstrate its ability to successfully deliver 'clean sheet' aircraft on-time and within performance parameters. It has a large, loyal customer base and a well-developed support network. Left unchallenged, we expect the Hemisphere and Cessna to gain significant market share in a segment that has been effectively abandoned by the competition.
Clawing Back Market-Share
How can Gulfstream fill the gap between a $20m aircraft and a $45m G500? Traditionally the OEMs shorten the fuselage or reduce fuel capacity (as Bombardier did with the Global 5000). However, the OEMs have learned painful lessons that the cost to build these modified airplanes was essentially the same as the full-size versions, and the profit margins were less.
Rather than investing in the larger and more expensive G600, perhaps Gulfstream should have dedicated research and development capital in the $30-35m segment. At a time when OEMs have excess capacity and soft demand, we agree that a second clean-sheet R&D investment is difficult to justify. But, in the meantime, Cessna is well under way in bringing the Hemisphere to market first, leaving Gulfstream, Bombardier and Dassault in a defensive position.
MI www.hagertyjetgroup.com
Asian Sky Group: More Optimism in Asia-Pacific
In November 2016, over 250 respondents participated in Asian Sky Group's survey on the mood and intentions of the current Asia-Pacific Business Aviation market. Here is a summary of the input…
Compiling the Q4 2016 economic perception by region, just 17% of Central Asia-based respondents believe the economy will worsen – the lowest number across all of Asia-Pacific's regions. South and East Asia follow, as well as Oceania, all with less than 40% of respondents reporting they are pessimistic about their economic future.
Although 46% of Greater China-based respondents still believe the economy will get worse in the future, this is a respectable 9% drop compared to Q3 2016.
This result essentially reveals that aviation industry insiders in Asia-Pacific are regaining confidence for future economic growth, as well as business opportunities.
To provide a clear understanding of respondent expectations of the current economy, Chart A presents the options "Past Low Point" and "At Low Point" as optimistic as the respondents believe that the economy will get better. Based on this assumption, ASG notes that since 2016 Q1, the percentage of respondents holding pessimistic views has decreased from 48% to 34%. More than 65% of respondents had an optimistic opinion in Q4 2016, trusting the economy will get better in the future.
In summary, over the past 12-months the restoration in respondents' confidence that the future economy will improve allows a prediction of increased business opportunities for the General Aviation industry in Asia-Pacific.
MI www.asianskygroup.com
UBS: Market Optimism Highest Since Downturn
Optimism and customer interest in the business jet market rose in January to post-crisis highs, according to a new UBS Business Jet Market Survey…
Now sitting at 51, the index score is 12% higher than that in UBS's previous survey and the fourth consecutive monthly increase. For reference, this is only the fourth month that the index has surpassed 50 since mid-2008. The majority of survey respondents (72%) consider the recent US presidential election to be positive for the business jet market, and more than half reported improved customer interest since the November 2016 election.
Over the next 12 months, 71% of respondents expect business conditions to improve, just 5% expect conditions to deteriorate and 23% expect them to remain the same, representing the highest level of optimism since 2010.
UBS's index reflects improved scores for the pricing index (up 51%); inventory, +18%; 12-month outlook, +8%; customer interest, +7%; and willingness of dealers to increase inventory, +3%.
The majority of survey respondents are Brokers/Dealers involved in the purchase and sale of new and used aircraft. More than half of respondents believed customer interest to be improved since the US election, with some respondents reporting that prospective buyers have since come off the sidelines.
Customer interest remains strongest by far in North America, though scores also increased in Asia (+9 percent), Latin America (+7 percent) and the Middle East (+6 percent). Europe was roughly unchanged, UBS reported.
By aircraft category, the light and midsize jet indexes came in above 50 – at 53 (up 7% sequentially) and 52 (up 15%) respectively. Though the market for large-cabin jets is still considered 'weakening' with an index score of 46, this is 9% higher than a month ago.
When asked about overall pricing levels, 2% of respondents said pricing levels had increased. Thirty-seven percent said pricing had decreased, while 61% said levels had remained the same.
More than half of those responding (57%) said overall used business jet inventory levels are high; 40% said they are at average levels, while 3% said levels are low. The results are improved from December's survey, when 63% of respondents said inventory levels were high. When it comes to inventory levels of relatively young used aircraft, 9% of respondents reported low levels of inventory. Forty-eight percent said levels were high, while the remaining 43% said they are at average levels.
Young Used Jet Inventory Stable
Used business jet inventory inched down by 0.1 points last month to 11%, below the historical average of 13%, according to the latest data from UBS Global Research.
At 2,326, the number of used business jets available 'For Sale' at the end of last month was roughly unchanged from a year ago. Slightly less than half of this inventory is jets 15 years old or younger, with the bulk of these—511—in the "young" category, meaning six to 10 years old.
MI www.ubs.com
In-Service Aircraft Values and Maintenance Condition
An Asset Insight market analysis conducted on December 30, 2016 covering 91 fixed-wing models and 1,865 aircraft listed 'For Sale', revealed Ask Prices for tracked models receded 1.5% following three consecutive monthly increases, ending 2016 down 10.1% versus January 2016.
All three business jet groups were down in value for December, with Large Jets losing 1.6%; Medium Jets 2.5%; and Small Jets 1.8%. Turboprops experienced a gain of 0.5%, but ended the year down 1.1%. Annually, Large Jet Ask Prices fell 12.2%; Medium Jets lost 18.5%; and Small Jet values increased 10.7%.
Inventory Fleet Maintenance Condition
Overall Asset Quality remained 'Excellent', but Maintenance Exposure set another 12-month high/worst figure (see Table A).
Quality Rating: The Asset Insight Quality Rating improved 1.3 AI2 basis points, to 5.393 from last month's 5.380, on our scale of -2.5 to 10.
Maintenance Exposure: The tracked fleet's average Maintenance Exposure (an aircraft's accumulated/embedded maintenance expense) worsened/increased slightly to $1.482m from November's $1.476m.
Maintenance Exposure to Ask Price (ETP) Ratio
The tracked fleet's ETP Ratio (an aircraft's Maintenance Exposure divided by its Ask Price) remained unchanged since November, at 52.4%. (Asset Insight considers any ETP Ratio over 40% to represent excessive Exposure in relation to Ask Price, and the tracked fleet's average has been above 40% for the past two years.)
Turboprops yet again posted the best/lowest figure at 43.1%; followed closely by Large Jets (44.0% - the group's worst figure for the year); Small Jets (54.1%); and Medium Jets (62.6%).
Market Summary
Small Jets continued to offer the best value given the group's 'Outstanding' Quality Rating and near 12-month low ETP Ratio, all at an Ask Price just below the group's annual average. Additionally, the group's Ask Price to final Transaction Price differential (8.1%) represents the lowest value erosion among the four groups.
Similarly, with the lowest/best ETP Ratio among the four sectors, a Quality Rating of 'Very Good', and an Ask Price below last year's average figure, Turboprop trades should be active, especially with an Ask/Actual Transaction value differential of 9.7%.
Large Jets retained their 'Outstanding' Quality Rating last month but, over the past year the group's Ask Price suffered a loss in excess of 10%, while Maintenance Exposure increased steadily since March to end 2016 posting the group's worst figure. By virtue of those two factors, the ETP Ratio was negatively impacted, increasing nearly 30% to hit a 12-month peak in December.
Unsurprisingly, sellers were impacted by Ask/Actual Transaction figures eroding 12.5% during Q4 2016. Looking ahead, Asset Insight's 90-Day Value Trend for Large Jets is projecting a 32% improvement that, while not moving prices upward, is at least anticipated to slow value deterioration.
Medium Jets ended the year with an 'Excellent' Quality Rating, but that was not reflected in the group's Ask Price, which lost 18.5% during 2016 to end at a record low figure. At 15.5%, the Ask/Actual Transaction value spread was the highest/worst among all four sectors and with the 90-Day Value Trend figure remaining unchanged, no real bright spots are currently evident.
By most accounts, 2016 was a very challenging year, but Asset Insight believes pent-up demand will result in active trading taking place as we begin 2017. Used jet and turboprop sales frequency should improve as the year progresses.
MI www.assetinsightinc.com
Read More About: JetNet | Aircraft Maintenance