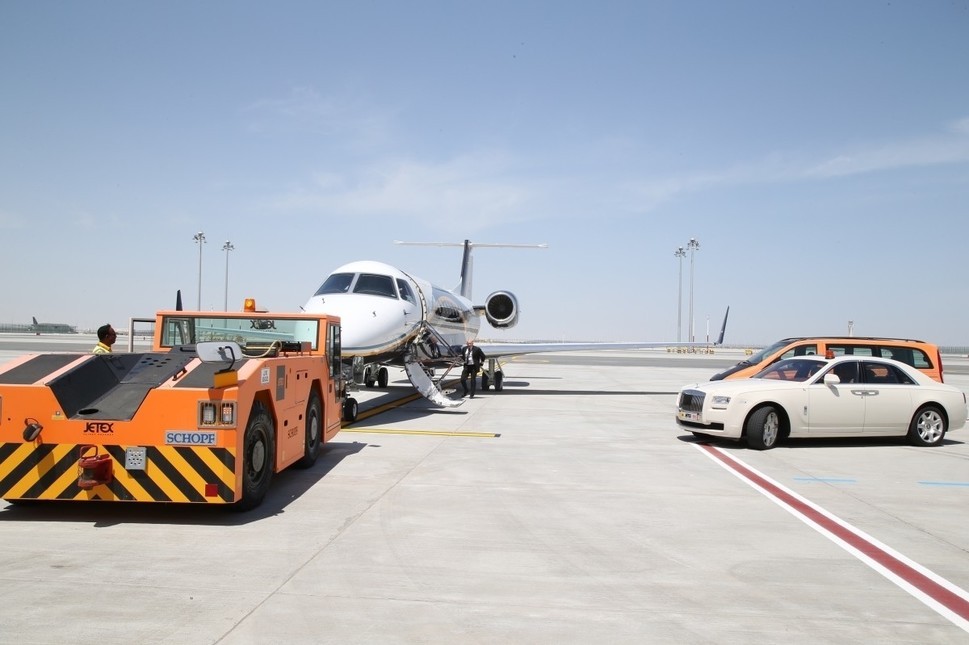 As a private jet owner or operator, you will find the quality of service available from FBOs varies dramatically from airfield-to-airfield and country-to-country, notes Faisal Nizamuddin, Jetex. How do you ensure consistency on your travels? Following are some key tips...
When it comes to arranging an international flight, is it unrealistic to expect consistent, reliable trip support…delivered at a reasonable price? Not if you get your planning right.
Following are some steps can you take to help guarantee smooth operations worldwide.
Tip #1: Choose a well-established trip planning provider.
Are you arranging a flight to an unfamiliar destination? If so, you need to know that your aircraft and passengers will be in dependable hands. It may seem obvious but is nevertheless well worth stating: Greater consistency of service can be ensured by choosing a trip planning provider with an extensive global network.
When you work with a well-established international company, you are enlisting the services of an experienced team of trusted advisors that have the local knowledge required to arrange the best available support on the ground according to your requirements.
By utilizing your trip planning company's approved facilities, you become part of a mutually beneficial supply chain.
This can help to elevate the overall standard of service received. If your trip planning company is bringing a lot of business to a local FBO, naturally the team on the ground will endeavor to ensure that your aircraft is well looked-after
You can also benefit from the economies of scale that come from working with a larger provider, and you will enjoy greater consistency in pricing for fueling and other ground handling services across different locations.
Tip #2: Ask the right questions before taking your flight.
While your trip support provider can recommend an FBO, you need to ask the correct questions at the trip planning stage, enabling your provider to select a facility that matches your requirements. It's worth asking:
Is the local line-service team familiar with working on your particular model of aircraft?
How does the competence of the ramp staff and standard of maintenance services they deliver compare with other FBOs in the vicinity?
Are the quality and availability of passenger lounges and ground transportation acceptable?
Will snooze rooms, showers or recreational amenities be available to help your crew relax and unwind?
Passengers on private jets are generally High Net-Worth Individuals who are accustomed to a certain standard of service. You don't want your passengers flying into just anywhere; the lounge needs to reach a certain standard. As such, it's important to get the full picture on the level of VIP guest facilities available.
Quality of customer service is also paramount. The friendliness, helpfulness and professionalism of an FBO team can make or break a trip. Perhaps your guests wish to book a room at a specific hotel, or are requesting in-flight catering for special dietary requirements. Concierge staff that are well-versed in the local area and proactive in assisting can save precious time.
For corporate travelers, time is often the most valuable commodity. Thus time is the number one consideration. Create a memorable experience for your passengers for all the right reasons by selecting an FBO with high-quality facilities and a dependable concierge team.
Tip #3: Save time by being prepared for any special requirements at your destination FBO.
If you wish to avoid surprises and potential delays, always cross-check crucial details before your flight. Be sure your aircraft is carrying all necessary equipment, particularly when traveling to smaller airfields in more remote locations.
For instance, it is mandatory to provide your own tow bar at many airports. If you don't have one onboard, then parking might not be confirmed, leaving your crew in a sticky situation. Larger airplanes may require other specific pieces of equipment, such as stairs or baggage handling systems.
It pays to double-check availability before you fly. This reinforces the importance of working with a knowledgeable and well-connected trip planning company that is familiar with all the requirements and the situation on the ground at your destination.
The same advice applies where fuel is concerned. In addition to ensuring that the correct type of fuel is available, the delivery method also needs to be considered.
Fuel hydrants are not always present, and if your fuel has to be delivered by truck it may be necessary to make arrangements in advance (particularly if it needs to be brought in from outside the airfield).
Organizing such deliveries can lead to additional costs and a longer time spent on the ground. To avoid unnecessary headaches, always make sure the proper preparations are made in advance.
Tip #4: Provide complete information on your aircraft, passengers and crew.
Help expedite processes when your aircraft lands by always submitting full details on your aircraft, cargo, passengers and crew well before your arrival. This enables your trip planning company to ensure that all the necessary arrangements are in place, so you won't face any unexpected hold-ups or incur additional costs at the airport.
The FBO team on the ground would prefer to know exactly what they will be dealing with in advance.
This knowledge empowers them to make all preparations required to deliver the smoothest possible service on the ramp. Just one little piece of information can make a world of difference to your experience, so be sure to offer as much detail as possible on your aircraft and the services you require.
The ground-handling team will be grateful to work with an open and proactive operator, as this helps them serve you more efficiently by allowing them to plan ahead.
Tip #5: Look for FBOs with recognized industry affiliations.
Your aircraft is an expensive piece of equipment. It goes without saying that you wish to entrust the care and maintenance of your aviation assets only to well-trained professionals, but how do you know which FBO to choose?
The most reliable way to ensure quality of service is to seek out facilities with industry affiliations.
For peace of mind, choose an FBO certified in accordance with International Standard for Business Aircraft Handlers (IS-BAH).
Acknowledged as the gold standard of industry best practice for Business Aviation, IS-BAH was jointly developed by the International Business Aviation Council (IBAC) and National Air Transportation Association (NATA), and is bringing greater standardization to ground-handling operations on a global scale.
Another desirable certification to seek is NATA's Safety 1st program. Established more than 20 years ago, the program offers world-class training for FBO and ground handling staff and is currently implemented at more than 800 locations worldwide.
Choosing an FBO that complies with these recognized international standards helps ensure your aircraft, passengers and crew are well looked-after wherever you are operating, and is your guarantee that the highest standards of safety and service will be adhered to at all times.
In Summary…

By following the steps outlined above, you can maximize your chances of receiving the best possible FBO services when flying internationally.
While quality can undoubtedly vary, industry bodies such as IBAC and NATA are helping to usher in a new era of standardization, making it easier to determine which facility is best suited to your requirements.
Ultimately, the most valuable advice is to employ the services of a knowledgeable and well-connected trip planning provider—one that can help you navigate the range of options available and deliver the best possible solutions for your flights to new and unfamiliar destinations.
More information from www.jetex.com