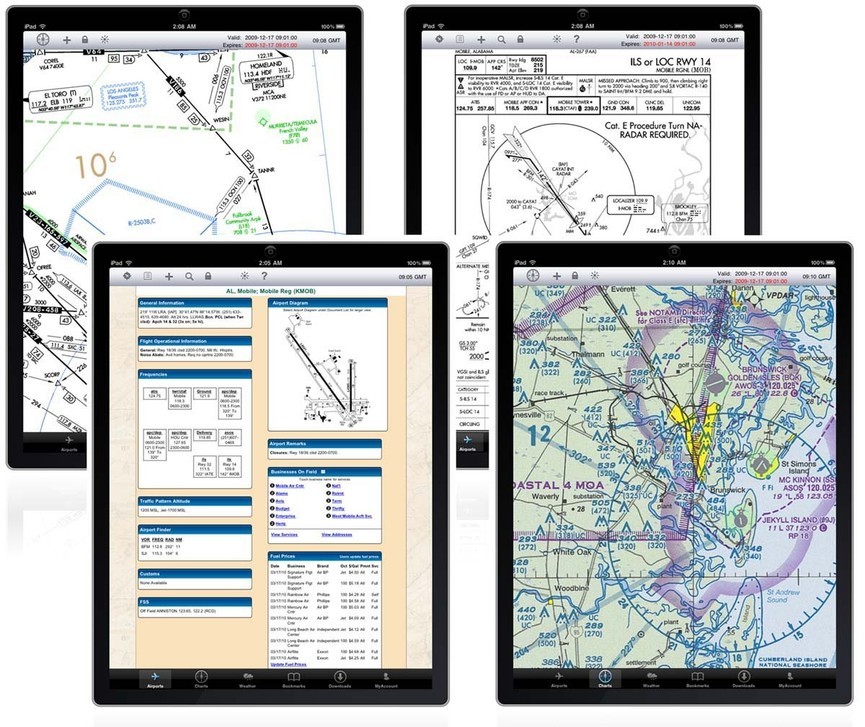 A device so popular that it's moved from cockpits into panels- the iPad serves many masters with a myriad of functions and applications – or "apps" as Apple calls them. Apps have become increasingly popular in aviation. One company- built the Cub-like Zlin Savage iCub aircraft around it but most aviation users take their iPad into their cockpits- apps loaded and ready to work in a myriad of ways.
Apps serve as flight planners and record keepers- weather resources and more. Go online to the Apple iTunes store or Google the Internet: aviation apps are a growing segment of the iPad marketplace- and pilots up and down the scale are embracing the touch-screen tablet.
With the standard caveats about not trying to learn to use new tools in the airborne cockpit- following is a run-down of what (by a non-scientific consensus) seems to be the top ten must-have products for the iPad for pilots – all available through Apple's iTunes store.
NUMBERS 1 & 2:
Jeppesen Mobile Flitedeck & Flitedeck Pro
Subscribe to one of Jeppesen's many electronic charting options and get free access to the corresponding app. For Mobile FliteDeck customers such as General and Business Aviation operators- that means JeppView 3- Express JeppView- JeppView MFD or NavSuite chart subscription; all make the subscriber eligible to download the app.
For free access to FliteDeck Pro the subscriber must have a tailored charting data subscription. Both applications will have the following features/functionality:
Data-driven and interactive en route display;
Display of your aircraft position on the en route display and airport diagrams;
Standard or Tailored Airway Manual text;
Arrival- departure and approach procedures including Chart Change Notices;
Chart Change Notices (terminal and en route);
Full-color- high-quality- vector-based data with crisp- clear detail and zoom capabilities;
Routing building.
Additionally- the Windows platform will support Airport Moving Map- documents- Customer Inserted Content and the Software Development Kit. (The iOS platform will support Airport Moving Map and documents later in 2012.)
FliteDeck Pro is aimed primarily at commercial operators and their use- while Mobile FliteDeck commands a major presence among Business and General Aviation operators and pilots.
For FAR 91 operations- no special authorization is needed – as long as the crew adheres to applicable FARs in terms of preparing for a trip. For 135 and 121 – as well as Sub-Part K of 91 for Fractional operations – prospects should consult Jeppesen- as well as referring to FAA Order 8900.1- Advisory Circular AC 120-76a- and other applicable regulations.
The applications themselves are free; Jeppesen prices apply for the document subscriptions.
Number 3:
Foreflight Mobile- V 4.4
Released just this past April- ForeFlight Mobile is considered by many to be the highvalue player in the field of flight planning and charting. Pilots can personalize or customize charts- plates- flight planning- tap live weather and turn the iPad into a notepad for copying clearances onto the screen – with your finger as the stylus.
Additionally- ForeFlight 4.4's new Documents view lets you bring your favorite electronic or scanner POHs- manuals and flip charts into the app. Download legends and manuals from the FAA and NAV CANADA catalogs; make your own document binders for fast access in flight; then tap to open your document viewer.
You can try it free for 30 days- and if you like it- you'll then pay $75 for annual subscription to the basic package- or $150 annually for the pro package.
Number 4:
Pilotfar/AIM
The pro-pilot dual companions- the Federal Air Regulations (FAR) and Aviator's Information Manual (AIM) have long been among the banes of cost-conscious aviators because of the ongoing changes that inevitably occur between printings.
From the Apps4Pilots site the PilotFAR/AIM app (By CoDeveloper LLC) makes the benefits of electronic documents stand out in stark beauty. Download now and update as often as you want.
You can find this app free at the Apple iTunes store and be comfortable knowing that updates are a few touch-drag-and-taps away- so that no aviator should ever worry whether the paperbacks in the flight bag are badly out of date – or even only mildly out of date.
Number 5:
Flight Guide iEFB
Charts & Plates (and plenty more) from Flight Guide iEFB gives the iPad pilot georeferenced charts- plates- and procedures with the addition of any iPad compatible GPS accessory or an iPad with GPS integral to the tablet.
The package includes a robust flight planning program- scaleable geo-referenced charts- plates- SIDS- STARS- airport diagrams and even live weather that will continue to update in-flight if you wish.
You may also consider adding a Zaon portable traffic detector and getting a portable- back-up anti-collision system in case the airplane's installed system fails.
Pricing is simple and affordable- starting at $129 and going to $199 annually for the IFR package- with a year's worth of updates in the second data plan.
Number 6:
WingsX Pro 7
WingsX Pro 7 from Hilton Software delivers sharp- high-resolution moving maps- sectionals- and approach plates- plus graphics depicting Temporary Flight Restrictions(TFRs) – an important piece of knowledge at any time- but particularly in a presidential election year.
Then there are real-time and free ADS-B weather with a compatible ADS-B In receiver working with the iPad in colorful NEXRAD graphics- airspace alerts- even high- and lowaltitude IFR charts and approach plates.
WingsX Pro 7 also delivers synthetic vision graphics for an out-the-cockpit-window view of the world ahead – and with terrain- alerting functions. And the app turns the iPad into a passive radar altimeter to help guide the pilot to the ground on those tough approaches. Prices start at $99.99- not including any accessory hardware needed to make all the functions- well- functional.
Number 7:
iATIS App
iATIS brings into the cockpit a wealth of live- real-time and graphically helpful information- such as a graphic depiction of the wind in relationship to the runway at your arrival airport and calculating headwind and crosswind components and their impact on your aircraft performance among the 14 important data information displays. It even calculates density altitude.
Each topic on the display side of the iATIS app coincides with the sequential information reported by the tower in the airport terminal area's ATIS broadcast. This broadcast information is first entered on the data input screen which is on the obverse page of the iATIS main display. All of this is available for about $10.
Number 8:
AOPA'S Airsports AFD
AOPA's Airports is an Airport & Facilities Directory (AFD) app by ForeFlight- available free to members of the Aircraft Owners and Pilots Association- and offering many handy features. Among these features- cross-platform iOS compatibility is already available and Droid compatibility is scheduled to arrive this summer.
All public airports- FBO information- airport diagrams- FAA offices and contact information (and more) are available in AOPA's Airports- and useable on the iPhone as well as the iPad.
"WingsX Pro 7 also delivers synthetic vision graphics for an out-the-cockpitwindow view of the world ahead – and with terrain-alerting functions."
Number 9:
Logbook Pro Version 3.0.0.
Logbook Pro for iPad/iPhone- now in Version 3.0.0 from NC Software Inc. offers so much depth and capability that it's somewhat baffling that it's offered for free. This is an iPad app that includes pilot certificate records- flight times- aircraft used- and helps you maintain currency with alerts- note day versus night operations- and now supports synchronization of local and universal times records. Again- it's free – as are updates.
Number 10:
Planeminder Online/Mobile App
Finally- for the light business aircraft operators- Sporty's PlaneMinder Online/Mobile App offers an aircraft-records solution to match the often smaller budgets of the onepilot/ one-plane flight department.
This inexpensive little $5.99 app turns the iPad into a record keeping and logbook program for the aircraft- serving up reminders of maintenance needs- scheduled inspections- AD revisits and the like.