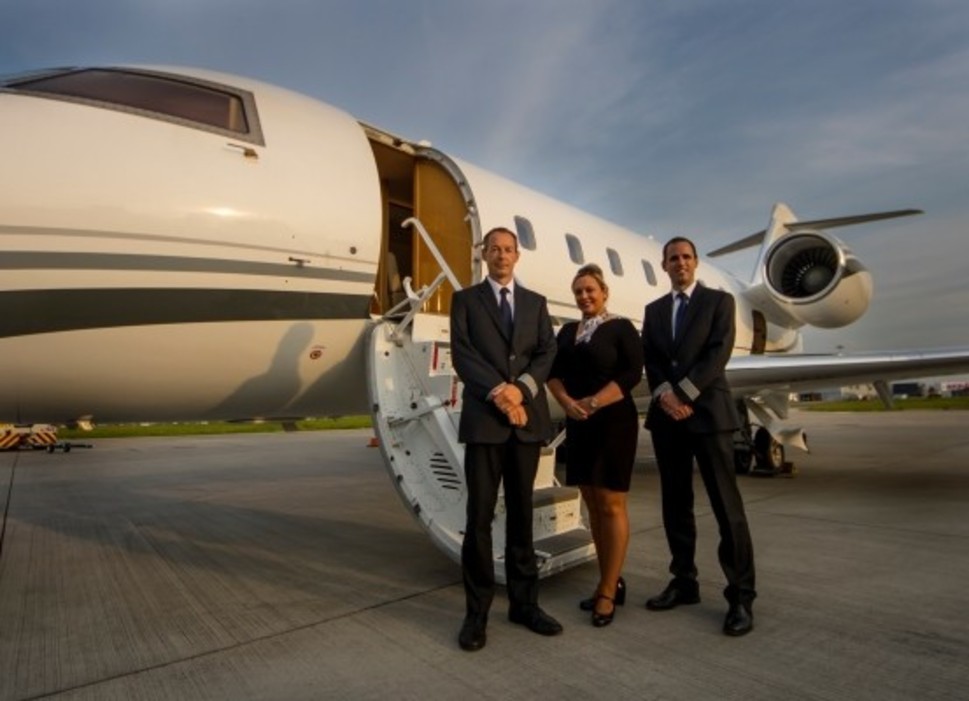 How can you maximise your return on investment on a private jet, and what are the tax implications and costs associated with business jet charter? Rani Singh discusses with Jet Exchange's MD, Ian Austin.

Jet Exchange has a charter consisting of several aircraft – including the Pilatus PC-12 and Dassault Falcon 900 – but a large-cabin Bombardier Challenger 604 has a special place in Ian Austin's heart. The advantage of the Challenger 604 is that in most conditions, you can fly to the Middle East or the US East Coast from Europe without stopping, so essentially you can access most of the globe with just one landing.

"The Challenger 604 comes into its own when passengers require more than eight seats, and we often carry this number as far as Africa, Greece, Russia and the north of Scandinavia from London. Many of our charter clients require a wide-cabin for various reasons, including feeling more secure, being able to stand up and walk around to avoid feeling claustrophobic.

"The types of trips our charter clients use the aircraft for are similar to those made by the owners themselves. The Challenger is a business tool. Charter clients want be somewhere else in the world at short notice, so the aircraft gives them that flexibility to get airborne as soon as possible, without having to waste time checking in at airports.

"A regular scheduled airline flight means hours of dead time unless you have solo work you can do on a laptop; whereas with a charter aircraft, a company based in London can fly to New York to make a presentation and practice the whole thing on the way over. That could be the difference between winning a contract and coming home empty-handed," notes Austin.

Advantages to the Aircraft Owner

Any aircraft owner considering making their business jet or turboprop available for charter will need to understand the implications with regard to tax, regulations and scheduling. So how can placing a jet on a charter AOC help or hinder an aircraft owner?

"Unless an owner is doing a serious amount of flying each year, his or her aviation asset will be under-utilized. Our clients live business, and they understand this," Austin explains.

"An owner has the option to have their aircraft operated privately or to put it with a company holding an AOC and have it listed on that company's AOC. It's only then that the owner has the option to make the aircraft available for charter.

"Most of the benefit comes by purchasing and placing the aircraft with an AOC company before even beginning to charter," Austin offers.

"Every moment your jet is on the ground, it's costing you money. You've got a variety of costs that come with simply owning an aircraft.

"Obviously there are direct operating costs involved when actually flying (i.e. fuel, maintenance and landing fees), but at least then you're getting something back through the functionality.

"For some owners, offering their jet for charter is the best way of minimizing the impact of those costs. They also have a professional procurement partner helping minimize expenditure of the aircraft. There's no VAT to pay on purchase, and operations are also zero-rated so there's no need to worry about VAT reclaims.

"As the aircraft is being used as a business tool, fuel is also duty-free and you'll be exempt from mineral tax. So, using a charter company to secure and manage your aircraft cuts both capex and opex – something all business leaders want to achieve.

"However," highlights Austin, "it's important to be honest with owners to make sure they appreciate that owning a single aircraft is not a 'business', but a business tool; they are not going to make profit out of it - although the revenue derived from charter operations will offset fixed costs proportional to the owners' own level of utilization."

Resolving Scheduling Clashes

Naturally, the potential exists for owners who make their aircraft available for charter to face clashes in their schedules. Both owner and charter client can't use the jet at the same time, so who can expect to take precedence?

"A charter operator should demonstrate they can work closely with owners so that they know where the opportunities lie to get added value without causing any schedule clashes. In our case if a charter is booked and the owner then wants the jet, the charter client must always take precedence.

"If the owner has a flight scheduled and we then sell a charter, we will give the owner the option to step aside or change aircraft. The critical factor for any jet charter business is reliability, so when a broker makes a booking with a charter company they want to be sure that the booking will stand with no issues. Reliability is the key."

Owners tend to have different preferences, notes Austin, with some wanting to agree every charter sale before approval and the aircraft marketed as 'subject to owner's release'. Many brokers do not like this, because it means they have to wait for certainty around a booking, and it's especially difficult to get a short notice flight to happen.

From the charter operator's perspective, it's much more efficient when the operator has full control and can make quick decisions acting in the owners' interests.

"Sometimes the operator will be juggling other quotes at the same time," Austin notes. "If there are multiple date, time and destination changes and they all need to go via the owner, it's often a non-starter.

"It also complicates things for the owner, and starts to defeat the point of delegating responsibility to the operator."

In essence, Austin notes, an owner must consider such factors before deciding whether to place their business jet for charter. If the model will work for them, they should seek a charter company that has full autonomy, understands the aircraft's owners well, and only contacts them (with the options) when only the owner can make the decision…


Read More About: Operating Costs