According to Eviation Aircraft's Omer Bar-Yohay, aviation is one of the world's dirtiest industries. Thus, Eviation has been developing Alice, an electric aircraft which it says will soon be capable of flying up to nine passengers 650 miles on a single charge, at minimal cost…
Unlike medium- and heavy-duty transportation markets which have been radically transformed by technology innovation over the last several decades, aviation remains one of the most carbon-intensive industries. Indeed, aviation is projected to consume one-fourth of the world's carbon budget by 2050 and it is currently lagging behind its counterparts on the ground in the race to electrify.
Relatively little has been done to electrify aircraft carrying packages and people from one place to another.
Approximately, 50% of the world's 4.5 billion annual passenger flights are 500 miles or less, a distance classified as 'regional'. For some of these shorter trips, flying may not even currently be an option, and (with much of the world lacking high-speed rail) many passengers have no choice but to drive, which often means wasted hours of sitting in traffic.
Relatively few commuters consider General Aviation as a viable travel alternative – although developments in electric aircraft may help to change perceptions.
With dropping battery prices and tremendous technical advances in composites, regional electric air flight could soon provide commuters a safe, quiet, emissions-free option aboard aircraft able to take advantage of the thousands of airfields that are infrequently used in Europe, North America (as many as 20,000) and elsewhere.
Users would be able to summon these aircraft via an app on their phones, and when shared with others the cost of the flight could be comparable to a bus ticket today.


Introducing Alice

Eviation Aircraft has been building the tools that it believes will change the way we travel. Specializing in the manufacture of all-electric air mobility solutions, the goal of the company is to make clean regional air travel accessible for all.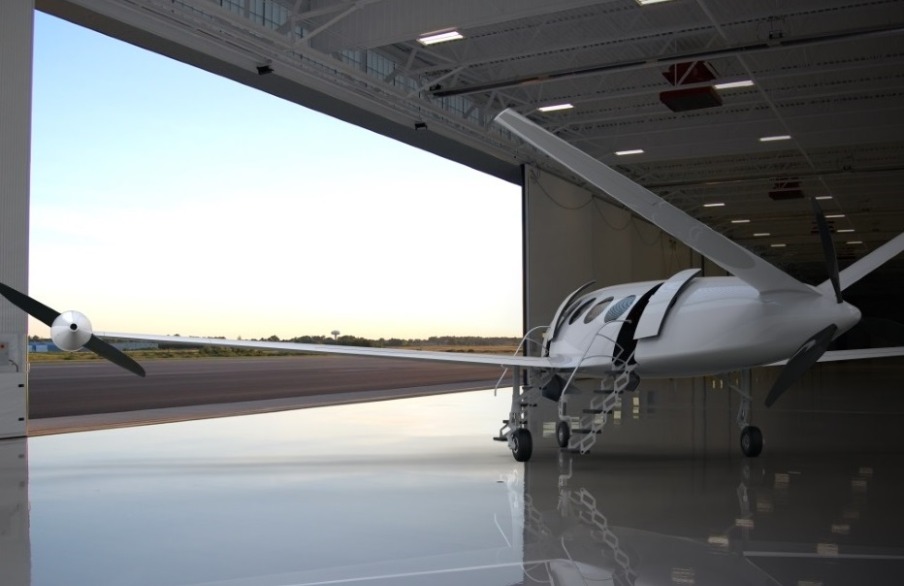 Eviation's Alice aircraft debuted at the Paris Air Show in June 2017 and the company believes it will soon be capable of flying up to nine passengers on a single charge for 650 miles. Essentially, Alice offers the following four key capabilities:
Electric Design:The Eviation team has radically and holistically reimagined the entire aircraft, including the airframe, propeller and motor, while maximizing energy management and flight efficiency. This allows for more aerodynamic design, lower maintenance and energy costs, higher propulsive efficiency, low noise and zero emissions.
Ultra-Light Design:Eviation has utilized a state-of-the-art, all composite body to compensate for the weight of the battery, which takes up 65% of the aircraft's weight.
High Energy Density Battery System:Having recently partnered with Kokam, a leading battery manufacturer based in South Korea, Eviation has outfitted the early Alices with a compact battery cell design and an industry-leading energy density of 260 Watt-hours per kilogram, optimized to achieve light, energy-efficient solutions that meet the safety demands of an aircraft.
Autonomous Flight:Alice was built from the very beginning as an Optionally-Piloted Vehicle for increased flexibility and expansion of services today, and full autonomy for when flying regulations permit.


Bright Future for Alice?

The regional transportation market is primed for 'disruption', projects Eviation, and Alice will soon be able to address the needs for access to regional transit corridors in North America, Europe and beyond.
Imagine traveling from London to Berlin in comfort, aboard an on-demand, emissions-free, hour-long flight. Eviation is working hard to make that a reality.
More information from www.eviation.co/