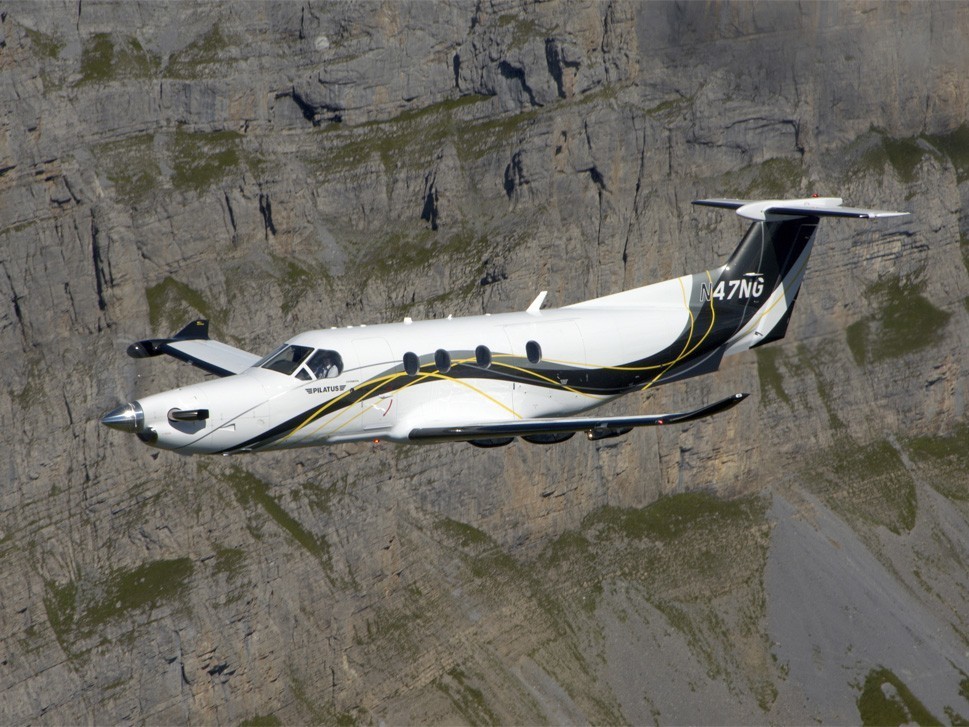 Just over a decade ago many voices in business aviation opined that the era of the turboprop airplane appeared headed for an end. The culprit: a new generation of light- small and relatively inexpensive entry-level jets spawned by a revolution in small turbofan jet engines – primarily Dr. Sam Williams' new FJ44 powerplants. Why- many asked- would anyone buy a propjet powered airplane when these new airframe-and-engine combinations provided more speed at lower operating costs at equal or smaller price tags.

Some- myself included- looked at the existing generation of turboprop airplanes for sale and found the forecasts convincing - numbers- after all- don't lie. But the forecasts fell victim to the differences between abstract observations and the operating and competitive realities of the world.

Although the innovative Beech Starship 2000A vanished – in many ways as much a victim of the differences cited by the seers and soothsayers as by any of its shortcomings – its stable mates survive today- the King Air 90- King Air 200 and King Air 350.

Likewise- we also have a number of single piston engine turboprops for sale- including the slick TBM700 and- in the past 18 months a new player- New Piper's daring Meridian. Also in perhaps one of the most singular of success stories- the mid-1990s brought us the advent of the Pilatus PC-12- the largest of the propjet singles and a significant success story in its own right.

Thanks to a combination of size- power- speed and utility- Pilatus' turboprop seems equally at home in a multitude of roles – a trait that helps any possessing aircraft. PC-12s work in roles that range from air ambulance to executive transport- personnel shuttle to freighter- combi aircraft to family station wagon.

More than 300 fly today- a testament to the sturdiness and flexibility of the design. And the company continues to work improvements into the big single- a sign of their faith in its future.

So what does it take to make a mighty single a success in a world where all signs seem to indicate its imminent demise? Nothing less than solid Swiss engineering- skillful implementation of human needs- and the sort of attention to detail that helped make other Pilatus projects winners in their own rights.

Fitness Freak: PC-12 brings basic strength to many missions

Descriptions of this muscular machine range from "off-road vehicle" to "Luxury aerial SUV" and beyond. Let it be said that in the eye-of-the-beholder approach to describing things- the true beauty to be found in the PC-12 is that all these descriptions fit- well- fittingly.

At the same time- however- the PC-12's sleek- somewhat-exotic lines help the single PT6A engine propel this big bird to speeds in the 270-knot range – hardly the realm of a vehicle with the utility to haul like a Diesel. Clearly- the PC-12 is no big-truck Bubba of an airplane.

Interestingly- the key to Pilatus' successful design stems from the airframe design- itself. At just over 47 feet in length and spanning more than 53 feet- the PC-12 covers a lot of real estate just sitting on a ramp. In fact- the PC-12 tops the pack of propjets not only in external dimension but in cabin size as well.

The cabin stretches 16.9 feet in length- approaches 5 feet in height (4.8 feet) and reaches 5 feet in width for a total of 405.6 cubic feet of space - 330 cubic feet of that aft of the flight deck area and forward of the luggage compartment. By comparison- the towering Grand Caravan from Cessna Aircraft differs in small ways across each dimension but works out to a closely matched 398.3 cubic feet- including the flight deck space.

Of course- the PC-12 can get 1-605 horsepower out of its PT6A-67B engine from Pratt & Whitney Canada- but Pilatus wisely chose to flat-rate the engine to 1-200 shp - 1-000 continuous for climb and cruise - thus providing a greater margin for reliability and performance. Even at the lower power ratings- the engine still provides enough power to propel nearly 10-000 pounds of plane and payload to speeds as high as 270 knots at altitudes as high as FL300- the PC-12's certified service ceiling. With an empty weight of 6-168 pounds- the PC-12 carries the day as the brawniest propjet on the ramp- beating the closest bird by more than 1-100 pounds – again- the Grand Caravan.

It takes strength of airframe to handle the range of payloads imposed by the varying configurations Pilatus offers. With pressurization- a huge aft cargo door and reconfigurable interior available- the PC-12 often serves a single owner in multiple jobs.

While the Caravan can carry nearly 400 pounds more- the PC-12's 2-857 pounds of payload capacity can travel at more than 90 knots faster. And with full fuel- the Swiss propjet goes about 1-000 nautical miles farther than its closest counterpart in size and payload. It takes that degree of brawn and muscle to carry the loads to the altitudes and speeds for which the PC-12 is known.

The PC-12 gives up about 500 pounds to the Grand Caravan where full-fuel payload comes into the picture: 1-078 for the PC-12 versus 1-561 for the Grand Caravan. Reverse the situation and examine fuel with maximum payload- however- and the PC-12 wins out in capacity and available range; again- while flying much faster.

Of course- there is a price to pay for this degree of versatility and utility – both the price of entry and continued operation.

In this case- the price tops the pack at more than $2.7 million for a standard PC-12 – about $1.2 more than a Grand Caravan- $900-000 more than a Meridian and $500-000 more than a TBM700 – the latter two the only models designed primarily for the high-speed- high-altitude world of executive travel- whether owner-flown or by flight-department staff.

Of course- comparing the prices of any of these singles usually disadvantages designs with more than one propjet engine. But the added cost of entry- care and feeding does provide one benefit no single can match; redundancy.

But given the product support customers rave about and the history of the PC-12's powerplant- hauling around an extra engine usually equates to paying for insurance you never use. While it may be a comfort some of the time- most of the time it's an expense and maintenance load most of us would prefer to do without.

Points for Pilotage: PC-12 a step-up bird with step-down demands

Not every kid on the block can realistically dream of owning and flying a personal airplane someday- but a significant number of us kids manage to make the dream a reality through our work. And this PC-12 is one workhorse that attracts its fair share of individual pilots – "kids" with the means to own and operate an airplane in this class.

According to Pilatus- around 60 percent of PC-12s fly by the hands of their owners – a percentage that rivals some of the more-sophisticated high-performance piston airplanes used for business.

For any pilot contemplating a move up from the piston ranks – single or twin – the thought of tackling a turboprop should be one that eases the mind. After all- today's turboprop powerplants demand so much less of the pilot's attention than the typical piston-powered aircraft. The PC-12 typifies that simplicity.

In place of a throttle- prop control and mixture knob- the PC-12 needs only a condition lever to put the fuel on-line at start and off-line at shut down- plus a power lever to control the engine output.

For the pilot coming out of an airplane as complex as a New Piper PA-46 Malibu Mirage- the move into a PC-12 should represent a move toward greater simplicity and greater confidence. After all- the unplanned shutdown rate of today's PWC PT6A engines far outpaces the comparable numbers for piston engines – itself a reasonably low number.

But the complexity of any machine like the PC-12 demands thorough training for the transition- something Pilatus attended to very well. Simcom's Pan Am International Flight Academy in Orlando- Florida- provides the transition course for new PC-12 pilots- as well as a recurrent package so loved by many insurance underwriters.

The primary tool for the PC-12 training is the facility's custom-built PC-12 simulator. The training package includes 20 hours of sim-time plus another five hours in the pilot's airplane. Not all pilots are fans of simulators – some we know confess to the motion discomfort they suffer- while others like to pick at the reality differences.

Nonetheless- the program apparently works its magic very effectively- given the record of PC-12s flying in the field. So much procedure and systems training can be accomplished with so much more ease and efficiency that wrapping up the program in the real plane helps erase any discomforting memories.

Of particular benefit to pilots transitioning from slower aircraft are the slow-flight traits of the PC-12. Despite it's high-altitude velocity capabilities – exceeding 300mph is routine – the landing approaches come in at high double-digit speeds comparable to Bonanzas- Mooneys and Mirages.

Reducing power starts the PC-12 slowing almost immediately; couple power reductions with trim adjustments and you get the sort of deceleration that makes easy work of managing descents and pattern work. You can fly instrument approaches at 120 knots for comfort or carry a mere 80 knots through the pattern. Either way- the proficient PC-12 pilot should find the work easy at strips that would make most business jet pilots balk at the shortage of airstrip.

Conversely- when in a pattern mixed with jets or larger propjets or piston planes- the PC-12 allows you to match the needed pace – say a 160 knots or 180- even – while retaining the ability to use that big prop and those huge flaps to slow for final and still make an early turn off the runway.

Sure- there are still differences that might make some feel like they've got their hands full. Controls are necessarily heavier; this is- after all- a fast- substantial airplane – and few pilots want five tons travelling at 270 knots balanced on the pressure of a little finger. And the same can be said of many a business jet and multiengine propjets; in fact- it can be said of every propjet to come my way.

At the same time- though- there's nothing overwhelming about driving the PC-12 around in the sky that a close attention to trim can't answer – another trait common to heavier- faster flying machines.

Thanks to the degree of automation- systems design and ergonomics- this is one business airplane dominated by single-pilot flying – with no worries about overwork or confusion on the flight deck. The standard PC-12 panel includes electronic flight information system (EFIS) instrumentation on the left side and analog on the right; still- most owners upgrade to EFIS for the co-pilot side- as well – even though in most instances they fly single-pilot.

The instrument panel logic shows through on first glance- with VSI- altimeter- and airspeed indicator grouped with the EFIS attitude indicator screen and HSI screen. A stand-by mechanical VOR display and a small- electrically powered attitude indicator also fit on the left panel- and flight director systems and the radio stack occupy the center real estate.

Honeywell's Bendix/King avionics have been the standard but Pilatus is offering Honeywell's new KMD 850 IHAS installation- which blends a multifunction display with other equipment- including traffic and ground-proximity warning hardware. Answering customer interest- Pilatus also plans to offer panel packages built around other manufacturers' gear- including Garmin and UPSAT.

With options and alternative packages largely up to the desires of the owner- some unusual and innovative combinations have filled PC-12 panels – including one fitted with a Heads-Up CMS400 checklist display unit that should be a real boon to the single-handed aviator.

Couple the PC-12's stability- solid- predictable handling traits- its automation and relative simplicity compared to piston and multiengine aircraft- and it's not surprising that pilots continue to flock to this bird in serious numbers.

Of the two new business propjets to come along in the last eight years- the PC-12 offers an up-market alternative in size and payload. It matches the best of its competitors in speed- covers more ground and carries more while retaining the advantageous economics only a single can provide. And it does so with style and strength in such a variety of roles that it's not surprising to learn that Pilatus expects to build more PC-12s this year than last.

That's good news for the approximately 1-000 employees working in Stans- where the airplane is built- as it is for the 75 working in Broomfield- Colo.- where the PC-12s go for their paint and interior work.


Read More About: Pilatus PC-12